Having started with Aussies in 1966' and breeding in 68' & then planning to develop a Bloodline in 1973, I have experienced a lot of ups and downs, but I hung in there and here we are in 2021. What an exciting adventure. Not just having pups and evaluating every litter but total involvement with the emerging ASCA and its programs, but everyone I've met.
When the Hall of Fame program was developed Fairoaks ​ was 'grandfathered' in to the program having about 3 times the needed titles to qualify. Then Hall of Fame Excellent​ a bit later.
Most breeders, including my self give the credit to the males, because they can produce scads more progeny then a female.
But really good bitches are really important. In fact, if you can only have a couple dogs, have bitches and select males from outside.
But if you were/are like me and have all the room you need where you can have both you are lucky.
In 2017 I started to have some medical problems and by 2019​​​ had to make a hard decision and place all my dogs, EXCEPT 3. The three I have now are the accumulation of 50 or more yrs of breeding.
I hope to be able to continue having about 1, or 2​ litters a yr. but only time and my health will tell.
Let me introduce my two females. Please access the pedigree pages to see where many of the have come from.
​. .​​​
Katie is a classic, very typy, very correct girl. 19 " and 35#. Super sweet if she knows you. Typical old style temperament. Beautiful, sound movement and her first litter by Fairoaks Justified is really nice.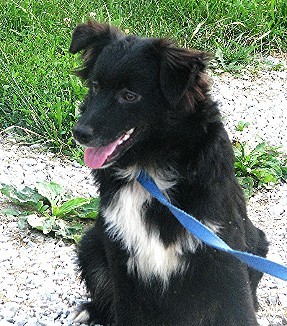 Pictured at one year. And here at 4 yrs.
Sire- Fairoaks Tight Black Levis Dam- Fairoaks Harlequin Kiss​
Grandparents to Katie pictured above. Levi and Harlie
Grandparents to Levi and Harlie directly above​
Fairoaks Justified Fairoaks Lyka Lilly Fairoaks Talkin' to the Blues Fairoaks Lyka​​
Great grand Parents Great grand Parents of Levi Great grand Parents Coe Great grand Parents
​
Two pictures above Two pictures above Two pictures above ​ Two pictures above ​

Int. Ch, Fairoaks Aladar Fairoaks Smokin' Pistol aka, Atom Int.Ch.Fairoaks Talkin' to the Blues Fairoaks Quanto

Directly above- Directly above- Directly above- Directly above

Tri Farms Joy​​​​​​ Fairoaks Lyka Fairoaks Alita Fairoaks Rebekha