Out Doin' Stuff
​​

Stuff in this case is performance events, such as Obedience, Agility, Rally and Working. Since I have not been able to show my own dogs for the past 18 yrs, the number in Working events has dropped off considerably. I'm including a lot of super performances by super dogs as well as some that have been trialed by others, in the working Arena

.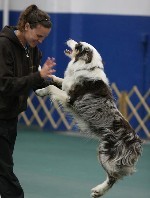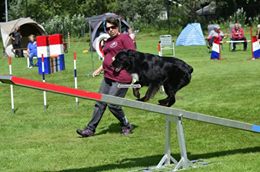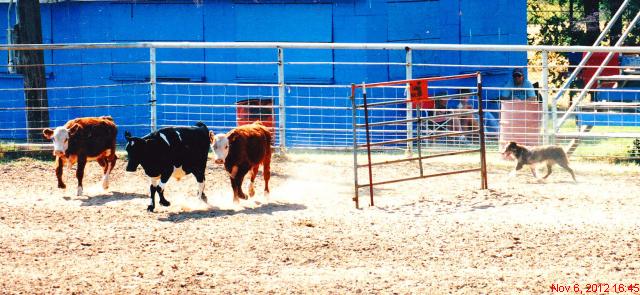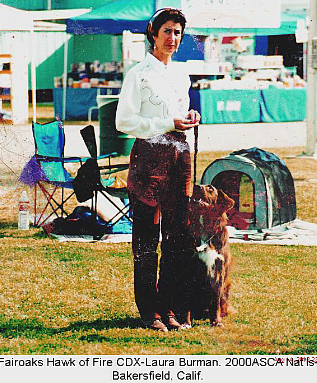 Lost track of owners name and address, but they were in N.Y I do remember that this gorgeous boy was from Rylos x Laya.
This Handsome guy Blaze, is from Raylon x Lilly. He is Owned by Nicki and Chuck Manning.
​
This exciting guy is

Rally Ch. ,ATCH 9 Ch Fairoaks Firestarter

CPE CX ,ASCA CDX, R RN​​​​X, AX, AXJ, GS-E-SP, JS-E-SP, ChST, O-EAC, ECC, O-EJC, O-TG-E, O-WV-E, TN-E, PD1, PJ1, PS1, SG, SR, SS, SJ, AG, SAM, MAD.
Also HIGH IN TRIAL, ASCA Nat"l Specialty 2010, HIT Veteren-Obedience, Nat'l Specialty, 2013.​
Flint was an incredible talented, and trainable dog. Credit to Owner, Nicki Manning for bringing all this out.​
Fairoaks Obsedian Jaguar
owned by Lisa Mcdonald. Texas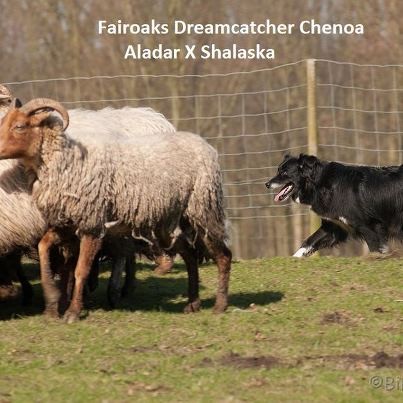 Fairoaks

Isis

AKC UD, ASCA CDX


Owned and trained by Julie Arisco, Texas, Blue Merle. Along with her 2nd Fairoaks earning his 1st title,

Fairoaks Quid Pro Quo.

Isis passed away at nearly 17 yrs old. Quin is 11 now (2018) and his career was severally Interfered with by Hurricane Katrina when Julie lost her home.
WTCH Fairoaks Absolute Sinner
CDX JS-N, GS-N
​
Int'l Ch Fairoak Tavarack x Daisy O' Doodle​
( Daisy is tightly linebred Fairoaks).​
Congratulations to ATCH Fairoaks HRH Chiquita Rivera

and Melody Franklin !
Southern Calif

​​Cinner lives in Austria where trials happen once or twice a year so she is doing very well to have got to Open.
Finished her WTCH with HIGH in Trial !​
Cinner is owned and loved by Nina Kramer in Austria !​ Nina provided me with these pictures.
They are all great, showing Cinners versatility, beautiful type and movement.​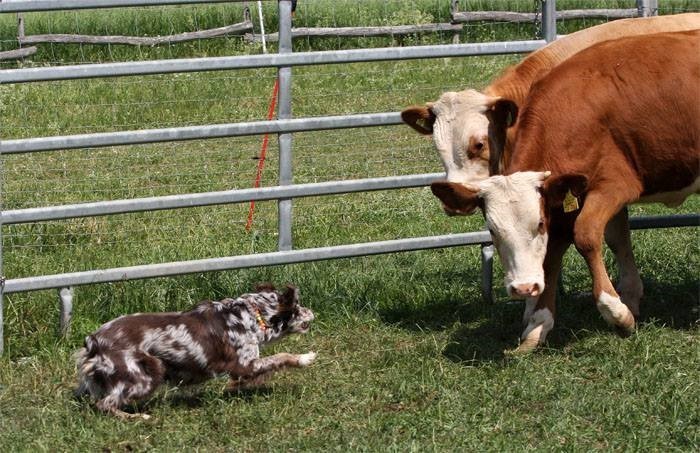 ASCA Ch. Fairoaks American Dandy



Shown 13 times as a Special. Was Best of Breed at many major specialties under 9 different Senior Breeder Judges for 9 Best of Breed wins.
Shown here with SBJ Sam Magazzine, ​​​ At the SEMASA Specialty, in Ann Arbor, Mich.
Bred by Fairoaks, as was his sire and dam and their sires and dams.
​​
UKC Gr. Ch.​ Fairoaks Remi McSwain
​
NL Ch. War Drum of Imagineer

OTDs, STDdc, JW '97, W '98, W '99, UV, 5 pts. ASCA (HOF Ch. Starstuff's Still Crazy CD, STDsd, CGC, HOF X Fairoaks Jami Jo) (owned by Joost Boer & Klaske Bouma, The Netherlands)

Co-bred
Fairoaks and Imagineer.​
INT. NAT'L CHAMPION
​FAIROAKS GIZELLE​
INT. NAT'L CHAMPION
FAIROAKS AZTEC WARRIOR​
Fairoaks Hawk of Fire CDX- Laura Burman
2000 ASCA Nat'l Specialty, Bakersfield, Calif.​
WTCH FAIROAKS ATOYA CD, PATD


​​ SIRE- FAIROAKS ATREYU X FAIROAKS
ALITA
​​
NOCHE WITH GRANDSON OF

JENNIFER FIGAROA


GREEN ACRES AUSSIES

​
FAIROAKS KNOT AND A HOOEY